Board of Directors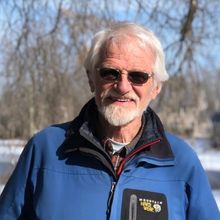 Doug Burnell, USVLT's President, recently retired as Principal at HEB Engineers in North Conway. Doug has deep family connections in Western Maine and the Mount Washington Valley, and he has been active in the community since childhood. He has been on numerous non-profit boards in the area, most notably serving as President of Tin Mountain's Board when the organization relocated to a new campus and built an outdoor education facility and office space. He has been on the USVLT Board since 2010.
Ann Bennett
Vice President
Ann Bennett came to the Mt. Washington Valley in 1970 to work for the Appalachian Mountain Club. She lives in Jackson and is the property manager for forest and farmland in the East Branch Valley (the Dundee easement). She is a former editor and contributing writer to the Mountain Ear Newspaper, and more recently the Conway Daily Sun. Her other board affiliations include the Jackson School Board, MWV Dollars for Scholars, the Pequawket Foundation, and the Whitney Foundation, which oversaw the construction of the Whitney Community Center in Jackson in 2008. Ann also chaired the SAU 9 board, and worked for many years as the administrator of the Jackson Grammar School. Ann and her husband Richard have been USVLT members since 2008, and joined the Board in 2012.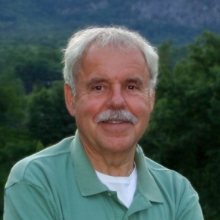 Jim is a retired Chief Financial Officer and a former Certified Public Accountant. He and his wife Linda moved to Bartlett full time in 1998 after being weekend visitors since 1985. He joined the Trust as a conservation easement monitor and is currently contributing in that role as well as being a Board member and Treasurer. Jim's reason for being involved in the Trust is simple: "I think it's important that we preserve the character of the unique landscape of the upper Saco River valley. One way this can be accomplished is through the work of the USVLT, its supporters and involved landowners." Jim and Linda have one son, Ryan, who lives with his wife Sinead in Tahoe, California.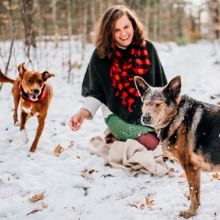 Meghan Moody is a proud native of the Mount Washington Valley. She attended Elmira College where she took courses in marketing, management, and art. She is now using those skills as the Marketing Coordinator at HEB Engineers in North Conway. Meghan is a multi-tasker, social media maven, artist, and a wicked good hockey player. In addition to her keen sense of design, she has valuable experience working for several of our local restaurants, including Thompson House Eatery and The Oxford House Inn. She knows how to plan an epic bash, work a crowd, and make everyone comfortable. Meghan and her partner, Dave, live in North Conway with their two pups, Cady-dog and Roux. They all enjoy all things outdoors.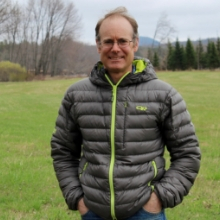 Alex Drummond
Alex Drummond is a Mount Washington Valley native. He has been a climbing guide for the International Mountain Climbing School, a youth ski coach for the Wildcat Mountain Alpine Education Foundation, a landscape gardener with Alpine Gardening, and owned and operated Mountain Sun Yoga Studio. For the past 14 years, he has worked for RE/MAX Presidential in North Conway as a licensed real estate agent (in both ME and NH). Alex lives in East Conway with his wife, Terry Young, and family. An avid outdoors-man, and a self-proclaimed plant lover, Alex enjoys getting out in the woods and the garden whenever possible.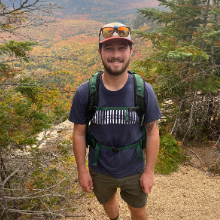 Tucker Gordon
As a child, Tucker spent summers and weekends at his family's home in Fryeburg. He moved here full time after graduating from Johns Hopkins University in 2016 with a B.A in Earth & Planetary Science. Through college, Tucker worked summers at Weston's Farm (run by his great-aunt and uncle), where he honed skills that prepared him for the farm manager position at the Thompson House Eatery in Jackson. In 2018, Tucker joined the team at HEB Engineers, Inc. where he works as an Environmental Specialist. Besides his family ties to the region, Tucker was drawn to live here by the ample outdoor recreational opportunities the area provides. He is an avid skier, mountain biker, hiker, and enjoys anything that involves time spent outdoors. He currently lives in Intervale with his fiancé Maika and their two dogs Emmy and Sawyer.
Lindsay Kafka
Lindsay Kafka has a deep affinity for the lands of the greater Mount Washington Valley, having been first introduced to this landscape as a child. For most of her life, her professional career has been centered to the south, around the greater Boston area. There, she first worked as a founding partner for the Concord Law Group, and then took positions with both Boston College and Harvard University in their philanthropy departments, focusing her work on planned giving. She has also worked on fundraising campaigns and nonprofit governance as an independent consultant. Most recently, Lindsay is back in school to pursue another passion of hers: nursing. Lindsay and her husband, Steve, will become residents of South Conway this fall once she completes her degree.
Sue Nichols
Sue Nichols grew up on her family's dairy farm in Center Conway, where she now lives. For the past three decades, she held numerous executive positions in non-profit health-related and environmental organizations in Georgia and Florida. For over 20 years, Sue co-instructed a field course on the natural history of sub-Saharan Africa, alongside her husband, Jim Gore, a retired university dean and aquatic entomologist. Sue has been a member of USVLT since 2009 and a member of USVLT's Development Committee since 2017.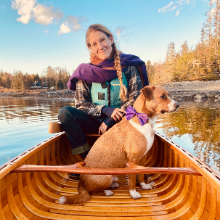 Megan-Mack Nicholson
Megan-Mack Nicholson grew up spending as much time as she could in the woods behind her childhood home in China, Maine. She has worked for Wilderness Therapy Programs, run outings programs, and taught at several universities and colleges including Ithaca College and Cornell. In 2016, Meghan-Mack moved back to Maine to take the position of the Director of The Hyde Wilderness School in Northern Maine. She is currently focusing on Holon Healing: her business that provides Forest Therapy and Shamanic Reiki Practices. She is a Registered Maine Guide, Certified Yoga Teacher, Certified Forest Therapy Guide with the ANFT, and Shamanic-reiki Practitioner. Creating experiences and opportunities for people to connect and heal in nature is why she is also so passionate about protecting and conserving the gorgeous land of the Upper Saco Valley.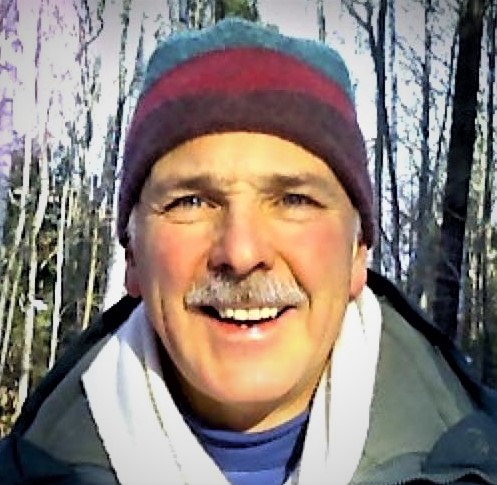 Tim Scott
Tim, a longtime resident of Jackson, New Hampshire, has been serving the fundraising profession continually in a variety of capacities since graduating from the University of Maine in 1977. During his career, Tim has consulted with or been employed by over 90 nonprofit organizations with an emphasis on long-term donor stewardship as well as conducting successful capital campaigns. In addition to his active consulting work with the Country Consulting Group, Inc., Tim also served for fifteen years as the Director of Development at Fryeburg Academy. Locally, he chaired the $1.3 million capital campaign for the North Conway Community Center in 2015, and worked with the MWV Rec Path, USVLT, Jackson Ski Touring, and the New England Ski Museum with their recent capital campaigns.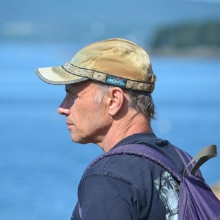 Dan Stepanauskas
Dan Stepanauskas has been a consulting forester in New Hampshire for thirty-five years. He works on the sustainable management of private and municipal forest lands using light-touch management techniques. Simply put, the goal is to achieve the desired results by imitating nature's design. He has worn out four pairs of Limmer boots, and two pairs of Trefle Bolduc's snowshoes. He is devoted to wilderness canoe tripping, has played the guitar for fifty-five years, and treasures visits from his two grown sons, whom he and his wife Stephanie raised here in the Valley.